The Top 5+ Mistakes Attorneys Make In Running Their Practice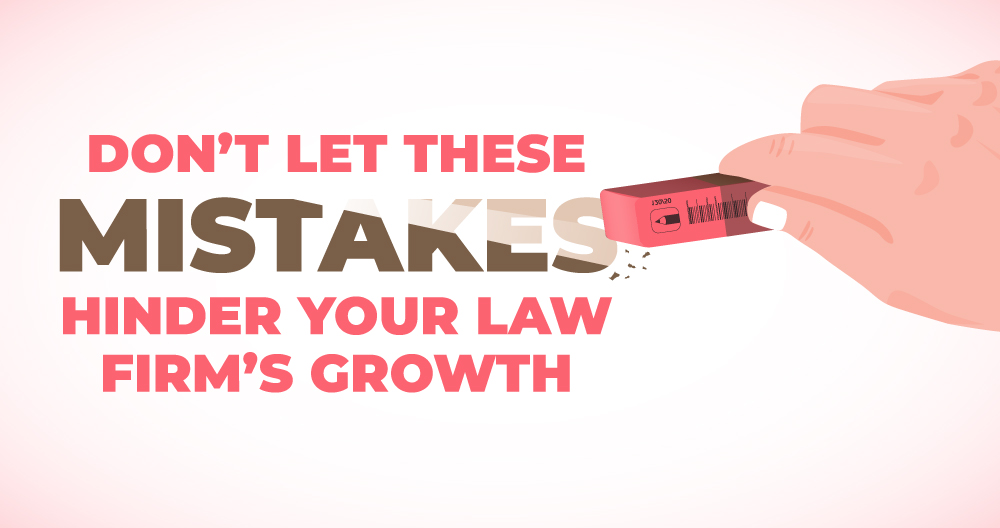 Mistakes are inevitable. Especially for small law firms that are just starting out. The good news is that overcoming these mistakes is possible and doing so will get your firm back on track for growth.
Below are the top mistakes attorneys make in running their practice and ways to avoid them.
Mistake #1. Failing to Communicate With Their Clients
The #1 bar complaint is lack of communication.
So why is failing to communicate with clients such a common mistake that attorneys make?
Short answer: They fail to view situations from their client's perspective.
Your clients want to know what's going on… even if there's nothing going on. You might think you don't have an update, but you do:
There's no news yet
I'm still working or waiting on paperwork
Etc.
Set expectations for when your clients can expect to hear from you – and follow through!
After speaking with a client, tell them when you'll be in touch again. And reach out when that time comes. Keep your clients in the loop to relieve their anticipation.
Mistake #2. Not Setting Up an Effective Intake Process
Not completing intakes on the initial phone call is likely the most common mistake attorneys make regarding new client intakes.
Your firm should be completing new client intakes on the first call.
It's important to hook potential clients right away – they will be calling through a list of attorneys to find someone they connect with.
Potential clients feel like they have already found their attorney and begun their process when an intake has been completed.
If your competition is taking messages and letting calls go to voicemail while your firm is completing intakes on that first call, there is no contest.
What is an effective intake process?
Effective intake processes are streamlined and easy to follow. They ensure that the same information is collected each time and that nothing gets overlooked.
The #1 intake secret is building a script that establishes a streamlined process and leaves your callers with a competent and professional impression of your firm.
Not developing an intake script is a common mistake that attorneys make.
Mistake #3. Not Settling Into a Niche
Potential clients search online for exactly what they need:
"Divorce lawyer in Austin, Texas"
"Lawyer for bankruptcy Phoenix, Arizona"
Very few people are searching for:
And if they do… "lawyer" covers EVERY ATTORNEY in your area.
People want to hire a legal expert who specializes in their case type. The same way they want to see a cardiologist for heart disease, not a general practitioner.
Furthermore, finding a niche allows you to simplify your law firm's operations. Focusing on the same type of cases will eliminate the back and forth of moving from case type to case type.
Mistake #4. Not Paying Enough Attention to Customer Service
Satisfied customers are the most valuable element to growing your law firm.
And once you've narrowed your competition by settling into a niche, how can you differentiate yourself within that group? With excellent customer service.
Too often, attorneys overlook the importance of empathizing with their clients and connecting with them on a human level.
Avoid that by doing the following:
Ask for feedback.
Keep your clients updated.
Ask them how they're doing (Genuinely).
Make sure your receptionist is utilizing friendly verbiage.
Set up a referral program.
Use layman's terms and check in to confirm your clients are understanding often.
Make them feel taken care of.
It can be embarrassing for clients to admit they don't understand the terms you're using or scenarios you present which can leave them feeling out of control and lost.
And remember that it's never too late to fix mistakes. Poor customer service leads to bar complaints, negative reviews, and a lack of referrals.
Wow your clients with great service and they will send their friends and family to you
Mistake #5. Avoiding Technology and Automation
Many law firms seem to be stuck in the past when it comes to technology and it's one of the biggest mistakes attorneys make.
But there are so many tech tools that can help you run your firm.
CRMs and Practice Management Software
A good legal CRM and/or practice management software will transform your law firm.
Keep your clients and leads organized and connected to their cases, paperwork, correspondence, appointments, and billing.
Automate emails and track referral programs to save you and your staff time and headaches.
Payment Processing
As Above the Law so eloquently states:
"Today, if you ask anyone under 35 for payment via check, you might get a perplexed look and a response like this:
'Uh… I don't use checks. Can I Venmo you instead?'"
While Venmo might be a little difficult for law firms to navigate, credit card payment is an option for almost all firms. You may have to pay fees or pay for a software subscription but it is well worth it.
Both receiving and making payments will be more reliable and painless. Resulting in a win-win for you and your clients.
The easier it is for your clients to work with you, the more likely they are to leave good reviews and refer you to friends and family.
Mistake #6. Spending Too Much Time on Administrative Work & Not Charging Enough Billable Hours
Lawyers report spending only 2.5 hours per day on billable work.
That number is painful, but surely not surprising. Every small law firm struggles with finding enough time for billable work, making this one of the most common mistakes that attorneys make.
Administrative work is TIME-CONSUMING and tedious. And frankly, there is no reason that you should be doing it.
The money spent paying someone else to do your administrative work is substantially less than your hourly rate. The misconception that answering phones and completing administrative work yourself saves money is one of the most common when law firms are first starting out.
This is because it costs you in the long run and prevents your firm from taking on more business and growing.
The misconception that answering phones yourself saves money is a common roadblock for small firms looking to grow.
Furthermore, if you have your paralegal or office staff taking your calls, consider hiring a legal-specialized virtual receptionist service. (Back Office Betties is a great choice, wink wink).
Your time is valuable, but so is your paralegal's – let them take some of the more complicated administrative work off your plate and stop wasting their paycheck on calls. The only person that should be answering your everyday phone calls is a dedicated receptionist or receptionist service.
Is your firm making any of these mistakes? Request a call with our Growth Solutions Strategist to strategize the best route to growth for your law firm.
https://backofficebetties.com/wp-content/uploads/2021/04/1033375_5MistakesBlog_1000x528_v1_040921.jpg
528
1000
Rachel Bauer
https://backofficebetties.com/wp-content/uploads/2023/02/Home-Logo-400x156-05.svg
Rachel Bauer
2021-04-13 10:00:03
2023-04-05 09:12:14
The Top 5+ Mistakes Attorneys Make In Running Their Practice